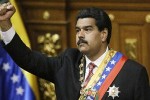 Acting President of Venezuela, Nicolas Maduro, announced the government secured funds for the payment of pensions and reported on the design of strategies for the regulation of new and used vehicles prices.
Maduro reported through Twitter the delivery of debit cards to all pensioners by the Venezuelan Social Security Institute (IVSS) and ensured sufficient resources to pay these people.
"Our elderly will not have to do more queues to collect their IVSS pensions. We will assign them a debit card. Justice!" He posted on his Twitter account.
Maduro also said that the funds for the nation's pensioners are guaranteed.
Meanwhile, in the framework of the government fight against stockpiling and speculation, Maduro stated he is working on actions to regulate and control the prices of new and used vehicles. "We have to pass a bill in National Assembly and act," he said.
I ask support for these necessary actions. Enough speculation abuse and rude with vegetables! Tomorrow I will go into details," he said.