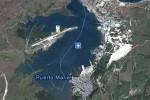 The United States and its business people are to lose more by their self-exclusion from the Special Development Zone at Mariel Port, in western Cuba, says Juventud Rebelde newspaper.
"But the US government and anti-Cuban lobby prefer losing to giving up their stubbornness," says JR edition.
JR says that though the Mariel Special Development Zone is considered by world press as a bright business opportunity, the US government doubts its reaching full success as long as the US blockade remains in force.
However, US southeastern and eastern ports are full of containers and they need to extend their terminals, which would mean destroying fragile ecosystems around their bays or displacing infrastructure, industries, services and housing developments already in place, which is "something US citizens would never tolerate," says the Cuban newspaper.
According to JR, press reports from a decade ago, before the Mariel plans were made public, said US business people, mayors and port managers had showed interest in Cuban ports.
JR recalls that the US economic, commercial and financial blockade has meant more than one billion USD in losses to the Cuban people, but in turn, the 465.4 square-km Special Development Zone of Mariel, 45 km west of the Cuban capital, will become a trade axis for the Caribbean and Latin America, promoting economic development, foreign investment, technological innovation and industrial concentration leading to increased exports.