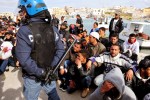 The United Nations High Commissioner for Refugees (UNHCR) has condemned Italy for its inhuman treatment of refugees at a reception center in the island of Lampedusa.
The video footage spread this week shows naked asylum seekers being hosed down with disinfectant in freezing conditions, and has already been condemned too by several Italian official, including Prime Minister Enrico Letta.
UNHCR urged the Italian government to open an investigation about what happened in the Mediterranean island and bring to justice those responsible for it.
The UN body demanded the implementation of measures to avoid similar cases happen in the future.
According to UNHCR spokesperson Ravina Shamdasani, immigrants' civil rights and dignity should be fully respected.
The incident, broadcast by local media, caused the termination of the contract of the company responsible for managing the reception center in Lampedusa and the beginning of an investigation of the events.
Yesterday, th European Union condemned the inhuman treatment to immigrants, referring to the events in Lampedusa, where a vessel wrecked las October off its coast, killing more than 350 people.