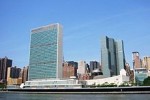 Late Brazilian architect Oscar Niemeyer, one of the designers of the Crystal Palace which houses the United Nations (UN) headquarters in New York, will be subject this Thursday of a tribute in the General Assembly.
The prominent builder died last December at age 104 after leaving a trail of recognized works in different parts of the world, particularly in Paris, Sao Paulo and Rio de Janeiro.
The peak of his work was the city of Brasilia, considered a masterpiece of urban planning and modern architecture and part of the UNESCO World Heritage since 1987.
The tribute to Niemeyer will have the assistance of the UN Secretary General, Ban Ki-moon and the President of the UN General Assembly, Vuk Jeremic.
The tower housing the UN headquarters and with 38 floors, was completed in 1952 and in its design also participated other renowned architects such as French Le Corbusier and Swiss Charles Edouard Jeanneret-Gris.
In a message on the occasion of the death of the Brazilian artist, the UN chief highlighted the architect's force, talent, the powerful human sense that he brought to his work and his world commitment.
For her part, the Director General of the United Nations Educational, Scientific and Cultural Organization (UNESCO), Irina Bokova, said that Niemeyer deserves the title of universal artist and founding father of modern architecture.
He was a great humanist intimately involved with the concerns of cities and fervent defender of humanity, she said.