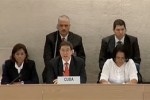 Cuban Foreign Minister Bruno Rodriguez said in Geneva that US blockade on the island is a systematic violation of human rights.
The economic, political and media blockade imposed by the United States on Cuba, country that has unbeaten resisted for more than 50 years, is a massive, flagrant and systematic violation of human rights, Cuban Foreign Minister Bruno Rodriguez denounced.
By submitting the national report to the Universal Periodic Review (UPR), the foreign minister said the blockade has caused damage, shortages and suffering, but has not prevented equality of opportunity, equity in the distribution of wealth, or social justice.
"The U.S. persistent effort to impose a change of regime to the Cuban people is a serious violation to the right to self-determination that has not been able to stop either the active, democratic, and direct participation of the citizens in building the constitutional order, in the government's decisions, or the election of its authorities," he said. Rodriguez stated that in his country there is no unprotected persons, deprived of dignity, there is no children without quality education, sick people without careful assistance, or elderly people without social protection.
Cuba has made significant progresses in holding economic, social and cultural rights. Education has achieved a universal coverage and is free at all levels, he said.
The Caribbean country is also recognized for its outstanding performances and high quality of its public health system with universal coverage and free care.
Rodriguez said that this report is the result of a comprehensive and participatory process of consultations that involved many government institutions, the Parliament, civil society organizations, and other institutions.
Since the first Cuba's presentation in this mechanism in 2009, significant changes have been held in the economy and society, and the country made progresses in the institutional improvement process, the minister said.
He added that new rules to expand the legislative base of human rights were adopted, such as those relating to social security, housing, employment, and self-employment.
The foreign minister said that Cuba remains committed with its irrevocable decision to advance in the socialist, indigenous, original, democratic, and freely participatory development.