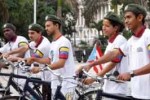 Students from various countries began here today a 200-kilometers tour by bike with the aim of spreading the cause of five Cubans tried and convicted in the United States at high imprisonment.
The five young men from Brazil, Cuba, Puerto Rico, United States and Honduras began the journey, called "I Want You Free", after having paid tribute to national hero Jose Marti at Havana's Central Park.
Participants in this bicycle tour of solidarity will participate in various activities held in the capital and in the province of Artemisa, demanding the release of Gerardo Hernandez, Ramon Labañino, Fernando Gonzalez and Antonio Guerrero.
The Five, as they are known internationally, were arrested in Miami in 1998 for warning their country about plans of anti Cuban violent groups basec in South Florida.
René González, also sentenced for the same crime, is already in Cuba after renouncing his U.S. citizenship.
This requirement was established by the U.S. authorities to modify the conditions of supervised release set after his release from prison in October 2011.
We aim to increase the whole network of global solidarity for the cause of the Cuban Five, told to Prensa Latina Leandro Nascimento, graduate here at the Faculty of Medical Sciences Calixto Garcia.
We make this bike ride to commemorate the 87th birthday of the leader of the Cuban Revolution, Fidel Castro, the five months of the death of Venezuelan President Hugo Chavez and 15 years of unjust imprisonment of the Cuban Five, Nascimento said.