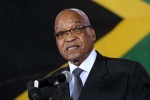 President Jacob Zuma thanked Cuba support in this period of mourning South Africa is living, due to the death of international icon against racism Nelson Mandela, in Johannesburg, one week ago.
At his Mahlamba Ndlopfu residence in Pretoria, Zuma held a meeting with Cuban President Raul Castro, who traveled to this country to attend the memorial services in honor of Madiba.
We had a consultation meeting with the Cuban president and he informed us about the current events in Latin America in general, said the South African leader, quoted by state news agency SAnews.
I thank President Raul Castro and his delegation for having come to share this deep sorrow with us. Without Cuba, as our old friend, the modern history of South Africa would not be complete, Zuma said.
The South African statesman recalled that the Caribbean nation played an important role in Africa, especially in the continent' southern region, during the time of the struggle for the liberation of those states.
We also talked about bilateral relations between our two countries, and we are happy about the progress of this process, said the South African statesman.
On the other hand, President Raul Castro said he was very happy that bilateral ties continue developing. Cuba is part of Africa, and Africa is part of Cuba and the Caribbean, he said.
The Cuban president laid a wreath today at the Freedom Park Memorial Museum, located in Salvokop, in Pretoria.
This monument includes the names of soldiers who died in the struggle for the liberation of South Africa, among them hundreds of Cubans who lost their lives in southern Africa during the fighting against the racist regime's army in late 20th century.
During a ceremony in Soweto on Tuesday, President Raul Castro stated that the former head of the South African State, Nelson Mandela, was an example of integrity and perseverance in the fight to reduce poverty in the world.
Raul Castro was one of the main speakers, who participated that day at the memorial services and tribute to Mandela, organized by the government and relatives at the FNB Stadium, in southwestern region of the South African second largest city.