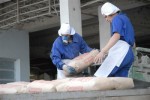 Cuban experts foresee for 2014 to increase the ecological cement production, a material that for its low clinker content reduces the emission into the atmosphere of carbon dioxide, said press report.
According to the director of the Center for Research and Development of Structures and Materials, Jose Fernando Martirena, the new product, developed in cooperation with Swiss scientists, will also decrease the cost of production.
Martirena, quoted by Juventud Rebelde newspaper, said that about 240 tons of ecological cement will be produced this month, in which much of the clinker is replaced by a mixture of metakaolin and calcium carbonate, without significant loss of endurance.
The initiative in industrial scale could enable that the Siguaney factory, located in central Sancti Spiritus province, produces in the second semester of 2014 a half of its 300,000 tones per year with eco-friendly characteristics.
Cuba and Switzerland become the first countries in producing less polluting cement, a technology to be transferred to larger producers in the world, such as India, China, and Brazil, Martirena said.