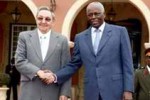 Cuban President Raul Castro sent a message of congratulation to his Angolan peer Jose Eduardo dos Santos, on the occasion of the 38th anniversary of the independence of Angola, the Cuban embassy in this African country reported.
"On occasion of 38th anniversary of Independence of the Republic of Angola, I extend our fraternal greetings and I affirm the will to further strengthen the close ties of friendship and cooperation that join our brother countries," says the letter.
Angola held its Emancipation Day on November 11, amid a huge national reconstruction program, to promote social justice and development of the nation.
The relevance of the date go beyond borders, because after the Angolan independence in 1975, a thorough process began in the continent that ended the Apartheid regime in South Africa, and Namibia could proclaim its freedom in 1990.