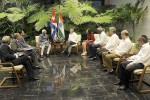 Cuban President Raul Castro friendly met here with Indian Vice President Mohammad Hamid Ansari, who is visiting Cuba.
During a meeting held yesterday, the parties agreed that there is potential to develop trade and bilateral economic cooperation, particularly in sectors such as pharmaceuticals, biotechnology, renewable energy, education, health, sports, and cultural exchange.
The Cuban president and the also chairman of Rajya Sabha or Upper House of the Parliament of India discussed issues of regional and international reality.
In this context, the Indian vice president expressed his respect and admiration for the Cuban people, and the achievements of the Revolution.
Minister of State for Human Resource Development of India, Jitin Prasada, Deputy Foreign Minister Dinkar Khullar, and ambassador to Havana Chinthapally Rajasekhar, attended the meeting.
Also on the Cuban side were Esteban Lazo, president of the People's Power National Assembly, Miguel Diaz-Canel, first vice president of the Councils of State and Ministers, Rodrigo Malmierca, Minister of Foreign Trade, and Marcelino Medina, acting Foreign Minister.