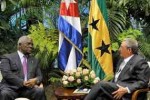 President Raul Castro met Manuel Pinto da Costa, President of the Democratic Republic of Sao Tome and Principe, who continues today an official visit to this country.
Both leaders referred to the relations of friendship and cooperation between their countries, expressed their interest in strengthening bilateral ties, and also talked on international issues.
Minister of Foreign Affairs and Communities of Sao Tome and Principe, Natalia Pedro da Costa Umbelina Neto, Cuban Vice President of the Council of State, Salvador Valdes Mesa, and Foreign Minister Bruno Rodriguez Parrilla attended the meeting on Monday.
The visiting president paid tribute also yesterday to Cuba's national hero Jose Marti, by placing a wreath at his statue in the Memorial Revolution Square.
After this tribute, Pinto Da Costa, who arrived in the Caribbean island on Saturday, June 15, toured the museum dedicated to the remembrance of Marti in Havana.
African leader's agenda includes a visit to the Latin American School of Medicine, where young people from his country are studying.
The two countries established diplomatic relations on April 10, 1976.