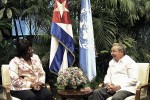 Army General Raul Castro, President of the councils of State and Ministers, received Carisse Etienne, director of the Pan-American Health Organization (PAHO), who is on a visit to Cuba.
During the cordial meeting held on Wednesday, Etienne praised the results obtained by Cuba in health and expressed interest in continuing to promote cooperation between countries of Latin America and the Caribbean.
Accompanying the distinguished visitor was José Luis Di Fabio, PAHO-WHO representative to Cuba. Also attending the meeting were the vice-president of the councils of State and Ministers, Jose Ramon Machado Ventura, and Public Health Minister Roberto Morales Ojeda.