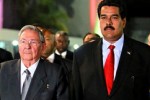 Cuba's President Raul Castro congratulated Nicolas Maduro this Monday for his momentous victory in the Sunday elections in Venezuela.
"Dear Nicholas: On behalf of the Cuban government and people, I congratulate you on this momentous victory, demonstrating the strength of the ideas and work by Commander Hugo Chavez," the message stated.
Raul Castro said, "this decisive victory and your loyalty to the people will ensure continuity of the Bolivarian Revolution and the genuine integration of Our America."
"I ratify all our solidarity and commitment. A big hug," the Cuban statesman said in the greeting message to the Venezuelan president.