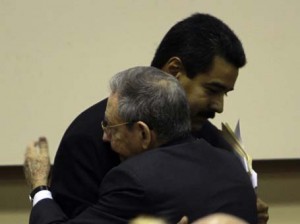 Cuban President Raul Castro bid farewell in this capital his Venezuelan peer Nicolas Maduro, who carried out an official visit to the Caribbean island.
Maduro's presence in Havana untill this Sunday continues the relations of brotherhood and solidarity that join both peoples and governments, according to an official note.
The Venezuelan president participated in the 13th Cuba-Venezuela Joint Commission Meeting, accompanied by Minister for Oil and Mining Rafael Ramirez, and Foreign Minister Elias Jaua.
Other ministers of the South American nation also attended the event.
First Vice President Miguel Diaz Canel, Vice President of the Council of Ministers Ricardo Cabrisas, Foreign Minister Bruno Rodriguez, and Minister of Foreign Trade and Foreign Investment Rodrigo Malmierca also went to the airport to bid farewell Maduro.