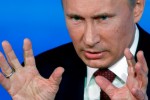 Russian President Vladimir Putin highlighted today Cuba's growing role in regional affairs, and welcomed the Caribbean nation's presidency this year in the Community of Latin American and Caribbean States (CELAC).
Upon receiving the credentials of Cuban Ambassador Emilio Lozada at a ceremony in the Kremlin, Putin described the island as the longest-standing partner and friend in Latin America.
The president said he is convinced that the strategic, economic, commercial cooperation, and the scientific, technical, and humanitarian ties will continue strengthening.
The head of State also celebrated the opening of the El Salvador embassy in the Russian Federation, in October 2012, by accrediting today the Central American country's ambassador Claudia Conjura De Centeno.
We advocate for the multifaceted development of relations with the Republic of El Salvador, Putin said during the protocol ceremony at the Great Kremlin Palace's Alexandrovsky Hall, the site destined for those activities.
After welcoming Ruben Alberto Beltran, new ambassador to Mexico, Putin reaffirmed Moscow's interest in promoting bilateral ties, described as constructive, particularly in energy, machinery, agriculture and the cosmos.
The statesman referred to the rotating presidency Russia will occupy from 2013 to 2015 in the Group of 20 (G-20), the G-8, the BRICS group and the Shanghai Cooperation Organization.