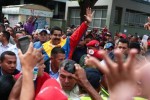 Candidates for Venezuela's presidency, their top aides and the basis of their political groups today officially begin ten days of election campaign that will leave ready the stage for the vote of April 14.
The candidate of the United Socialist Party of Venezuela and the forces gathered in the Great Patriotic Pole, Nicolás Maduro, starts the race in the state of Barinas, the birthplace of the late president Hugo Chavez.
That will be the starting point for a march that will take Maduro to all regions of the country and that-as expected by masses of Bolivarian activists and supporters-could finish taking him to Miraflores Palace.
Thus, the current Venezuelan acting president's campaign symbolically would replicate the path taken in life by Chavez: from Sabaneta de Barinas to Miraflores.
After starting in Barinas, Maduro will arrive on Tuesday afternoon to Zulia, in the far northwest of the country, its second stop during the brief campaign.
Meanwhile, the main opposition candidate Henrique Capriles, representing the so called Democratic Unity Table, begins his journey in Maturin, Monagas state, even though days earlier he announced that he planned to start in Barinas, which was seen as a provocation by government authorities.
Today also begins the campaigns of Reina Sequera (Power Labor Party), Maria Bolivar (Democratic Party United for Peace and Freedom), Eusebio Mendez (New Vision for My Country ), Fredy Tabarquina (Organized Youth Party of Venezuela) and Julio Mora (Democratic Unity).
From Monday until April 11, members of the polling stations receive training, as scheduled in the program of the elections.