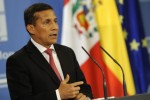 Popular support for President Ollanta Humala has increased again, reaching 57 percent, according to a survey released today by the Datum private company.
The percentage recorded a significant increase of seven points since December, complemented by a drop in disapproval, 41 to 36 percent.
Good governance, economic stability and social programs are among the reasons listed in the survey for the president's support, and disapproval can be mainly traced to citizen insecurity and social conflicts.
Unlike the president, the Prime Minister, Juan Jimenez, and the Economy Minister, Luis Castilla, have achieved an approval of only 21 and 30 percent, respectively.
Humala's improvement in the survey also contrasts with the poor results of other political figures such as the conservative former president Alan Garcia whose political performance has only a 21 percent approval rate and 67 percent disapproval in the same survey.
The conservative Keiko Fujimori, daughter of former president Alberto Fujimori and Humala's opponent in the second round in 2011, has 34 percent approval, while former president Alejandro Toledo reaches 24 percent.
The survey also inquired about a humanitarian pardon for the former president, Fujimori, who is serving 25 years for crimes against humanity and corruption.
A pardon was supported by 56 percent of respondents, compared to 58 percent in December, with 40 percent disapproval, although most do not believe that Humala will grant it, an opinion that has grown, from 49 to 55 percent.