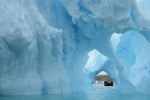 The President of Peru, Ollanta Humala, announced today an increased presence of his country in Antarctica, during a visit to Machu Picchu base located in that continent.
Humala said in a local radio station that Peru will resume and strengthen its Antarctic policy by the deployment of more expeditions and improving the infrastructure of that base.
Humala attended the celebration of the 25th anniversary of the first Peruvian expedition to Antarctica, and regretted that since 2007 the country has left the Antarctic policy and announced an increase in the Machu Picchu base's budget.
He said the research vessel, which he also visited today, had not traveled to Antarctica for six years.
He added that his country plans to have a permanent base, because the current one operates only during the summer, and also bring it nearer the South Pole.
On the other hand, Humala expressed his solidarity with tens of thousands affected by last week's torrential rain in the southern region of Arequipa, which left six dead.
He also provided to bring any necessary assistance to Arequipa and coordinated government support with the regional president (governor) of that territory, Juan Manuel Guillen.