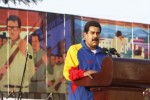 On addressing participants in the 26th of July commemoration in Santiago de Cuba, Venezuela President Nicolás Maduro referred to Jose Marti as the forefather who continued the libertarian efforts of Simon Bolivar.
"Today is the day of the Centennial Generation, the day of Marti, the day of Fidel (…); a day of quixotic rebelliousness as our beloved Hugo Rafael Chavez Frias once said". Historic answer of the youth who dared to signal out the way, and had the capacity to carry out the dreams of the Apostle, he added.
After introducing the people accompanying him, Maduro exalted the figure of Fidel Castro and highlighted his wisdom, with which he has guided his country and the rest of Latin American countries.
Presided over by the First Secretary of the Party and President of the Councils of State and Ministers, Army General Raul Castro, the ceremony was started at 7:07 A.M. with the Cuban national anthem.