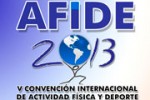 Delegates from over 50 countries confirmed their attendance to the 5th International Convention of Physical Activity and Sports 2013, scheduled from November 25 to 29.
Arnaldo Rivero, director of Science, Technology and Environment of the Cuban Sports Institute (INDER) said that 356 participants from 55 countries have registered, together with 200 Cuban delegates.
The central topic of the Convention will be "Professional Development, Physical Activity and Life Quality" and the sessions will be at the Havana Convention Center.
The event has confirmed the attendance of the Ministers of Sports from countries such as Jamaica, Antigua and Barbuda, Guinea and Dominican Republic, besides teachers, investigators and students. It includes three master conferences and 29 papers, 10 expert panels and three roundtables, 11 workshops and sympossiums.
Among the topics to discuss there are psychology in sport, science applied to sports like baseball, and others.