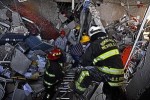 Experts with the Attorney General's office continue investigating today the causes of the explosion registered on Thursday at the state-owned Petroleos Mexicanos (Pemex), in the Federal District, that killed nearly 25 people, including 17 women, and injured 100.
Interior Minister Miguel Angel Osorio appealed to national and international experts to clarify the causes of the disaster, which occurred in the basement of the B2 Pemex building, next to the well-known company's tower, when many of the office workers were outside having lunch, at around 3:45 p.m. local time.
Authorities are directing their resources to investigating the explosion and the results will be made public as soon as they are learned, Osorio told the press.
The minister refused to disclose any information, but emphasized that certain lines of investigation had been opened.
Some hours after the blast, a group of people were rescued from the rubble.
Nearly 25 people died and 101 were injured during the blast near the 54-story Pemex building, Osorio reported.
On Thursday night, President Enrique Peña Nieto visited the scene and expressed his condolences to the relatives of those who died during the tragedy.