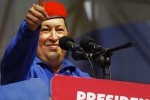 Venezuelan Vice President Nicolas Maduro informed this Thursday that the President of the Republic, Hugo Chavez Frias,  is fully aware of the process he's been through since he was operated on last December 11th.
"In general terms, I can say he's very calm, and very conscious of all the phases of his after-surgery process", Maduro said when interviewed by EFE.
Maduro, who visited Chavez last Monday in Havana where he is recovering from surgery, explained that "the whole phase of infections has been controlled", referring to the respiratory problems the leader had suffered.
He added that the information about the health of President Chavez has been handled according to his world leadership, and denounced that despite the official statements released, opinions have been raised against the information that have been provided.
"Hugo Chavez is the president and will continue to be as such. We are very clear about the role of the President. That's why we are faced with a mediatic war, a real despicable mediatic war against his life and his health. It is sort of mortuary journalism, filled with evil, which has settled in Spain particularly, and the  Abc journal is an example", Maduro explained.
(…)
The Venezuelan vice president added that while in Cuba, he talked to Fidel and Raul Castro about the bilateral cooperation programs on fields like health, education, sports, culture, and economy.
"We take advantage of every single minute to discuss about the economic projects between the two nations. Both, Venezuela and Cuba have several joint investments, and a very dynamic and multidimensional relationship, so we use every opportunity to care for those issues and to improve them, as well, he added.  (AVN)
(Translated by Escambray)