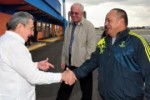 Cuban Revolution leader Fidel Castro and President Raul Castro met Sunday afternoon with Venezuelan Vice-President Nicolas Maduro, and other high ranking officials from that South American country.
In the meeting Maduro, Fidel and Raul spoke of the success of the Extraordinaire Summit of Foreign Relation Ministers of PetroCaribe-ALBA which was held in Caracas and the promising perspectives of these integration mechanisms. They also tackle other issues related to the strategic alliance between the two countries.
The Venezuelan delegation expressed its gratitude for the statement made by the Cuban government that any attack against Venezuela would be considered as an attack on Cuba, as the Cuban VP of the Council of Ministers Miguel Díaz-Canel said in the solidarity towards Venezuela and its President Hugo Chavez act held in Caracas on January 10.
Maduro forwarded the profound gratitude of the Venezuelan people for the excellent care the medical team, Fidel and Raul have given President Chavez in his recovery, and for the feelings of love and solidarity expressed by the Cuban people.
The President of the National Assembly of Venezuela Diosdado Cabello, Oil and Mining Minister Rafael Ramirez and the general Attorney Cilia Flores were present at the meeting.