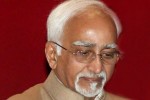 India's Vice President Hamid Ansari will visit Cuba from Oct. 29 to 31 leading a delegation of more than 100 people, including government officials and exponents of several arts and traditions.
The arrival of one of the most numerous Indian delegation that has been in Cuba will occur amid what will also be the largest cultural festival of the ancient South Asian nation in this Caribbean island, starting Oct. 24 through Nov. 4.
The visitor will come accompanied by Culture Deputy Minister Chandresh Kumari Katoch, and many legislators and government officials, Dinkar Khullar, secretary (West) in the Ministry of Foreign Affairs, said today at a news conference.
Ansari's visit is that of highest level by an Indian leader to Cuba since Premiers Rajiv Gandhi and Manmohan Singh did them in 1985 and 2006, respectively.
The vice president expects to meet with the highest authorities of the island. "This visit is a reflection of our old and enduring ties with Havana," Khullar said.
In fact, the Indian Cultural Festival will also help to achieve these objectives by promoting mutual understanding of the two peoples. Among the artistic expressions are visual arts, film, dance, and cuisine.
Ansari will arrive in Cuba from Peru, where he will fulfill from Oct. 25 to 28 a similar agenda to that he will do in Havana, to commemorate the 50th anniversary of diplomatic relations between the two countries.