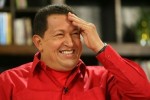 Venezuelan Foreign Minister Elías Jaua will attend here today a special session of the UN General Assembly and an ecumenical service in memory of late President Hugo Chavez.Diplomatic sources told Prensa Latina that the religious ceremony will be held at St. Paul the Apostle Church, in Manhattan, at 19:30 local time.
Attendees will include US figures, indigenous, Afro-American, social, union leaders and peace organizations.
Jaua will also attend a special meeting of the UN top body convened in tribute to Chavez, who died on March 5 in Caracas.