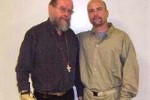 South Africa's Father is confident of the release of the Cuban antiterrorist fighters.
With his usual examples of kindness, the man who lost both hands by a letter bomb sent by the Apartheid regime in 1990, three months after the release of Nelson Mandela, stressed the need for justice.
'I have had the privilege of visiting Gerardo (Hernandez) six times in two different prisons. It always leaves me a sensation of bitter, sweet, but really very painful, because he is innocent and should not be imprisoned,' Lapsley told Prensa Latina.
Father Michael, as he is popularly known, director of the Institute for Healing of Memories, an entity devoted to heal the wounds of the South African opprobrious past, stated that he usually spends three to five hours with Gerardo.
"I am very sensitive with the case of the Five and for that reason I recently wrote a letter to President Barack Obama to ask for the release of Gerardo, Antonio Guerrero, Fernando Gonzalez, and Ramon Labañino. Rene Gonzalez is already released."
The problem with Gerardo is that he have spent nearly 15 years locked up and has a double life sentence for a crime he did not commit, in addition to his wife Adriana (Perez) is prevented from visiting him, the positive is to talk to one of the most bright ones of the universe, he argued. Anglican priest and born in New Zealand, Lapsley moved to South Africa in 1973, where he had a rich history as an activist of the African National Congress of Mandela, and other leaders of the South African nation.
He was was expelled from the African territory in 1976 for his speeches in defense of children detained and tortured during protests in Soweto. He remained in Lesotho until 1982, when he was forced to emigrate to Zimbabwe.