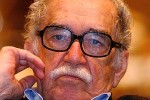 Colombian, Mexican, Peruvian and Brazilian journalists were the winners of the 2013 Gabriel García Márquez International Journalism Award.
In this year's contest, about 1,379 entries from 30 countries competed, covering a broad range of tradition and innovation.
At the awards ceremony yesterday, Costa Rican journalist and La Nación editor received the award for Journalistic Excellence granted by the Foundation for a New Journalism, which organizes the contest.
Foundation director Jaime Abello said the prize-winning works represented the diversity of the processes that are taking place in Latin America right now.
Jean Froncois Fogel of France, a member of the jury, highlighted that even though many of the entries were related to violence, armed conflict, or war, others explored relations of power or historical contexts.
"They are great articles; they grab your attention and don't let you go until you finish reading," he said.
The Foundation for a New Journalism, based in Cartagena, was created in 1995 by Nobel laureate Gabriel García Márquez.