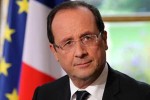 French President, Francois Hollande, admitted the seriousness of the economic crisis, after the National Institute of Statistics reported France falling into recession and experiencing a decline in purchasing power.
"The economic situation is serious, it makes no sense to minimize it," said Hollande after a cabinet meeting, reported government spokesman Najat Vallaud-Belkacem.
However, the president considered the recession less severe than the one recorded in 2008 and 2009 and added that the lack of growth is a concern across Europe.
According to Hollande, the situation will force the European Union to strengthen initiatives to stimulate growth.
The National Institute of Statistics and Economic Studies (INSEE) revealed on Wednesday that France entered recession after seeing a decline in its Gross Domestic Product (GDP) for two consecutive six-month periods.
The decline was 0.2 percent, a figure that places the region in its longest recession since record-keeping began in 1995.
The agency explained that the numbers show the devastating impact of a banking crisis and debt in an area that has led to a record high of 19 million people unemployed.
The figures discount any possibility of rapid recovery and exacerbate the debate on the need to implement effective measures and abandon austerity policies imposed so far against several members of the group, emphasized INSEE.
The Prime Minister attributed the situation in France to problems in the entire group of countries covered by the common currency, where French companies have their main customers.
More than ever, it is necessary to change the course of these policies, noted the text, signed by the spokesman of the organization, Olivier Dartigolles.