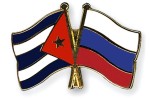 The historic leader of the Cuban Revolution met with Dimitri Medvedev.
The leader of the Cuban Revolution, Fidel Castro, met with Russia's Prime Minister Dimitri Medvedev, in a fraternal and friendly atmosphere, media reported in Havana this week.
According to the note, the exchange of views between them covered the impressions of the visit to Cuba of the Russian leader, the signing of important agreements between the two countries, and other international issues.
Regarding international topics, the text mentions "the world food situation and the dangers to which mankind is subject due to price rise, the adverse effects that environment is suffering, and the dramatic threat that entails climate change to our species."
"This is the second time that both leaders hold a lively meeting," concludes the information.