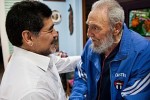 The historic leader of the Cuban Revolution, Fidel Castro, held on Saturday afternoon a fraternal meeting with former Argentine soccer star Diego Armando Maradona.
Maradona arrived in Havana on Friday night from Caracas, occasion in which he visited the Mountain Barracks where he paid tribute to the Supreme Commander of the Bolivarian Revolution Hugo Rafael Chavez Frias, and met with the President of the Bolivarian Republic of Venezuela, Nicolas Maduro.
The dialogue between Fidel Castro and the former Argentine soccer star was a lively and fruitful exchange between two old friends, says the statement issued in the capital.