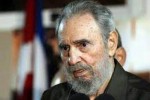 The historic leader of the Cuban Revolution, Fidel Castro, sent congratulations today to the workers of the national community program of comprehensive rehabilitation of patients, started a decade ago.
Since 2003, these services were expanded throughout the island, with 400 wards where about 69 million patients have so far benefited, with high levels of satisfaction.
To commemorate the event, the sector's Minister Roberto Morales and the rehabilitation workers sent Fidel Castro a recognition for considering him the architect of this health program, and in gratitude for his unconditional support for strengthening it.
Cuban workers have also taken this care model to other 38 countries, among them Haiti, Venezuela, and Pakistan.