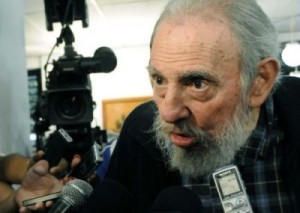 Cuban Revolution Leader Fidel Castro shares with some journalists after casting his vote.
After cast vote in the general elections of last February 3, Fidel Castro had a pleasant dialogue with journalists, to whom he talked about the threat of war and the future of the human being.
"Weapons are developing too fast and the developed countries inform about unexpected advances in science and technology at the service of death and destruction" he said.
" I believe the Homo Sapiens did not evolve enough to prevent war, instincts and selfishness unfortunately prevail in its relations", he stated.
The leader made comments on the Cuban electoral process, President Hugo Chavez's health, the constitution of the People'ss National Assembly (Parliament), the Community of Latin American and Caribbean States (CELAC) and the social-economic transformations undergoing in Cuba.
Near the end, the Cuban leader called on the people to work in food production, one of the country's priorities.
[nggallery id=48]
After casting his vote in the general elections of last February 3rd, Fidel Castro had a pleasant dialogue with journalists, to whom he talked about the threat of war and the future of the human being. (photos: Ismael Francisco, and AIN)