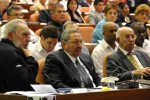 Leader of the Cuban Revolution, Fidel Castro, and President Raul Castro attended the session to install the National Assembly of the People's Power (Parliament) in its Eighth Legislature (2013-2018) at Havana Convention Center.During the meeting, all 612 deputies elected in general polls on Feb.3 took oath before their voters.
Once the new Assembly was set up, the legislators chose the presidency of Parliament and the 31 members of the State Council.
Esteban Lazo Elected President of Cuban Parliament
Cuban legislador Esteban Lazo was elected today to preside over the National Assembly of the People's Power in its Eighth Legislature, installed today in this capital.
Lazo is a member of the Politburo of the Communist party and a State Council vice president.
Through direct and secret vote, the member of Parliament also confirmed Ana Maria Mari Machado as vice president and Miriam Brito as secretary, as they did in the previous period.
The voting to define the posts in the Assembly, the top body of state power in Cuba for the next five years, was held after its installation at the Havana Convention Center.