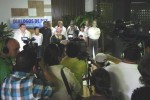 The Revolutionary Armed Forces of Colombia-People's Army (FARC-EP) expressed their thanks to U.S. congressional representatives for supporting the peace process that seeks to end the armed conflict that has lasted more than half a century.
U.S. congressional representatives sent a letter to Secretary of State John Kerry, expressing their support for the peace process and the efforts at political settlement, "which revive and mobilize the hopes of millions of Colombians today," said the FARC-EP.
The letter, read by guerrilla Victoria Sandino at the entrance to Havana's Conference Center, permanent venue of the talks begun on November 19, the message assures U.S. congressional members that the FARC-EP is determined to seek a diplomatic solution.
They also mentioned their request to raise any possible agreement in Havana to the rank of Special Agreement, to which the rules of international humanitarian law would be applied, to be incorporated constitutionally and thereby legitimize the status of peace as a right and duty of all Colombians.
The guerrilla acknowledged U.S. congressional concern with respect to victims of the conflict, with emphasis on the more than five million people displaced by the slaughter of members of the Patriotic Union (the party that emerged in 1985 after several guerrilla fronts were demobilized) and the more than three thousand extra-judicial executions that occurred during the government of Alvaro Uribe (2002-2010).
Among the congressmen that sent the letter, are James MacGovern, Janice D. Schakowsky, Joseph R. Pitts and John Lewis.
The talks between the FARC-EP and the Colombian government have entered their third day of a new cycle begun on Tuesday, following a month of separate work.