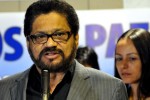 The Revolutionary Armed Forces of Colombia-People's Army (FARC-EP) thanked acting President of Venezuela Nicolas Maduro today for his gesture reiterating Caracas support for the peace process in Colombia.
Prior to starting another day of talks between the insurgents and the government of Juan Manuel Santos, the guerrilla's chief delegate, Ivan Marquez, recalled the role of the late Venezuelan President Hugo Chavez in that sense.
"Without Chavez's help, we would not be moving forward the way we are in these peace talks here in Havana, Cuba," the FARC-EP representative said in statements to the press from Havana's Conference Center, permanent headquarters for the talks.
"Thank you, (acting) President Maduro. We are going to work hard here in Havana to see how we can move forward at the negotiation table, searching for understandings with the Government of Colombia that will lead us to the delivery of an agreement," Marquez said.
Maduro told the multi-State Telesur channel on Monday, March 11, that his country is committed to peace in Colombia, and that Chavez had hoped for an agreement to be signed this year.
In that regard, Marquez said "everything possible" will be done.
The FARC-EP and the Government of Colombia began a new cycle of dialogue on Monday in the talks that began in Cuba on November 19.
The dialogue will be focused on the land issue, the first of a six-item agenda agreed to by the parties at the negotiation table, with Cuba and Norway as guarantors, and Venezuela and Chile as accompanying countries.