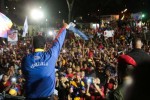 President-elect of Venezuela, Nicolas Maduro, said today that the results of Sunday's election is a victory for democracy and called to assume the win with humility.
Speaking to thousands of supporters gathered in front of the Miraflores Palace, he said that after the voting day begins a new stage of the Bolivarian revolution.
This is the stage of absolute honesty and efficiency to correct the wrong done, a deep correction in all spheres of life and work.
Maduro said that the government is facing an economic war since December, with a real sabotage in essential products by a bourgeoisie which saw the operation of Commander Hugo Chavez and his subsequent death as the end of the process.
He revealed that spoke by phone with the opposition candidate, Henrique Capriles, who conveyed his vision and he told him the truth.
In this regard, we recalled that there is a power that ruled electoral irreversibly.
Try to manage the result obtained with humility, without challenging Venezuela, without calling to violence, he warned the opposition and highlighted that democracy is the power of the majority.
Maduro also asked the people to avoid provocations as the country enters a new phase of acceleration and development.
He indicated that issued instructions to the security agencies to protect the peace of the country, with great care and intelligence.
Maduro also said he is willing to submit to an audit of all the votes cast on April 14, with full confidence in the electoral system of the country.
According to the National Electoral Council (CNE), with the result of 99.12 percent of the polling stations, Maduro won 50.6 percent of the vote cast (7 505 338 votes).
Meanwhile, the candidate by the so-called Democratic Unity Table (MUD) – took the 49.07 percent of the vote (7 270 403).