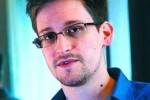 The father of Edward Snowden, who is accused of espionage for revealing secret documents on intelligence to the press, said today that his son would return to the United States on certain conditions.
During an interview with NBC, Lonnie Snowden said he sent a letter to Attorney General Eric Holder, in which he explains that the former technical contrator for the National Security Agency (NSA) plans to return if he is not held before trial nor subjected to a gag order.
He also asked his son not to be subjected to a gag order and be able to choose where he was tried.
Mr Snowden said his son did not betray the U.S. people, although he violated the country's laws for disclosing classified information.
Snowden, who is in Moscow's Sheremetyevo airport since Sunday, disclosed documents to the British newspaper The Guardian and The Washington Post on secret NSA surveillance missions against U.S. citizens and 35 other countries.
Ecuador's government is considering a request for political asylum by Snowden last week.