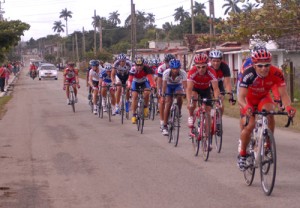 Some 80 Cuban pedallers, including members of the national preselections, take part in the invitational cup "Sancti Spiritus Cycling against Terrorism and for the Freedom of the Five", scheduled to end on January 27th.
The competition is another example of solidarity with Cuba and the five anti-terrorist fighters unjustly condemned in the United States of America, and it is sponsored, among others,  by the Cuba-Italy Friendship Association and the Circulo Ravennate, from that European country.
In addition to the initial lap Sancti Spiritus-Yaguajay, contestants are to run the circuit from the provincial capital to Trinidad, the road from the Yayabo village to Fomento, through the national highway, and a smaller one within the city.
This way sports become also a tribune in favor of the the Five and against terrorism.
[nggallery id=44]