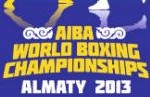 Cuban Gerardo Cervantes and Erislandy Savon were victorious today at the fifth round of the XVII World Boxing Championship in Almaty, Kazakhstan, leaving Cuba undefeated.
Gerardo Cervantes (52 Kg) defeated the Japanese Sadayori Auki 3-0 (30-27, 30-27 and 30-27) this morning. In his next match he will face the Welshman Andrew Selby, who defeated the U.S. Malik Jackson 3-0.
Meanwhile the other Cuban in the ring, Erislandy Savon (91 kg) defeated the South Korea's Jinho Heo by TKO in the second round.
Savon, former youth world champion, will face the Algerian Chouaib Bouloudinats on Monday, today's winner (3-0) against the Swede Gabriel Richards.