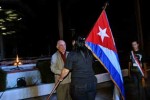 Jose Ramon Machado Ventura, second secretary of the Cuban Communist Party's Central Committee, gave the national flag to the delegation that will represent this country at the 18th World Festival of Youth and Students.
Machado Ventura said during the ceremony, held at the Memorial Granma yesterday night, that the 306 members summarizes the characteristics of the current Cuban youth, and they reflect the work, dedication, study, effort, sacrifice, and tenacity.
All these factors come together in you and with pride you should, and you surely feel so, represent the youth of this country as well, the official said to the delegates to the Festival, which will shortly leave for the Ecuadorian capital.
He recalled that the Cuban Revolution has had to overcome many difficulties but not only remain, but expand, develop, create values and virtues in the people and internationalist convictions.
Machado Ventura stressed the importance of choosing the Granma Memorial to celebrate the event, a place where the yacht that bears that name is exposed, and came to Cuba in 1956 with 82 men, led by the leader of the Revolution, Fidel Castro, to fight the Fulgencio Batista dictatorship.
Cuban First Vice President Miguel Diaz-Canel, and Rene Gonzalez, one of the five Cuban antiterrorist fighters unjustly condemned in the United States in 1998, attended the ceremony, in which the work of a group of young teachers was also recognized and artist Ernesto Rancaño received the Abel Santamaria Medal.
Antonio Guerrero, Ramon Labañino, Fernando Gonzalez, Gerardo Hernandez and Rene Gonzalez were arrested in Miami, for monitoring groups that organized and financed terrorist actions against Cuba.
Only Rene Gonzalez is in the island, after completing his sentence and renouncing his U.S. citizenship.