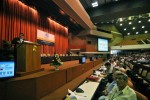 Small and medium enterprises play a vital role in the economy worldwide, an expert said the first day of the 8th European International Quality Symposium 2013 being held in Havana.
In statements to Prensa Latina, Hervé Gauthier, director of the International Cooperation Program of the European Committee for Standardization, explained that the agency intends to share the experiences of its 33 member organizations to ensure the good performance of these entities.
According to Gauthier, small and medium enterprises are the basis of European economy, hence the importance of access to information on quality and standardization.
The issue of small and medium enterprises is included for the first time in the International Symposium on Quality.
In fact, as part of the event, the Ministry of Science, Technology and Environment awarded two Cuban agencies the National Quality Award 2012.
In the coming days, representatives of the United Nations Organization for Food and Agriculture and the Economic Commission for Latin America and the Caribbean will offer lectures.
The event takes place at the Havana's Conference Center until Friday with the presence of more than 400 experts from 15 countries.