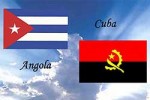 Cuban Foreign Minister Bruno Rodriguez arrived in Angola for a three-day visit, to hold official talks with his peer in this country, George Chikoti, and other authorities.
Upon his arrival at this capital's international airport, Rodriguez was welcomed by Maria Cuandina de Carvalho, director of the Americas department at the Angolan Foreign Ministry, Luanda's ambassador in Havana Jose Cesar Augusto, and Cuban Ambassador Gisela Garcia.
His stay in the African country is part of a tour that included Ethiopia, Seychelles, South Africa, and Zimbabwe.
In Zimbabwe, Rodriguez was received on Friday by President Robert Mugabe, who sent greetings to the leader of the Cuban Revolution, Fidel Castro, and President Raul Castro.
During the meeting, the Zimbabwean president recalled his meetings with Cuban leaders during his visits to the island.
Mugabe praised and thanked Cuba for the support it offered to the African continent during the struggle against colonialism and the collaboration it currently provides in many sectors.
Mugabe also ratified Harare's opposition to the blockade policy imposed by the United States against the Caribbean island, and called for further strengthening bilateral relations.
Cuba's foreign minister arrived in Angola after both countries celebrated the 38th anniversary of the establishment of diplomatic relations, on Nov. 15, forged in the blood shed by many of their sons and daughters for the independence of this African nation.