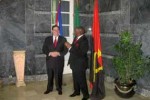 Cuban Foreign Minister Bruno Rodriguez said that the tour carried out by regional countries and ended today in Angola is part of the deep convictions to cooperate with the African continent.
Rodriguez ended in Luanda a tour which had its first stop in Ethiopia, then followed to Seychelles Islands, South Africa, and Zimbabwe.
"Africa, particularly the sub-Saharan region, is always in our hearts. We felt a debt of gratitude with this continent and cooperation is part of our deepest convictions," the Cuban foreign minister told Prensa Latina.
He explained that the aim is to "contribute modestly with the objectives of peace, development, and social justice in this region that has such cultural proximity to Cuba, our blood, our ancestors, to the tradition of struggle for independence and abolition of slavery."
Cuba, which currently presides over the Community of Latin American and Caribbean States, has the important purpose of strengthening relations with the African Union, the minister said.
He noted that during the tour, he could verify a level of progress and excellent relations, as well as great admiration and affection for Cuba.
This recognition arose due to the Cuban contribution to the development of these peoples, and because Cuba is an independent country that can speak itself, and defend African interests in the international arena, he added.
The diplomat carried out an official three-day visit to Angola, in which he held talks with different authorities to strengthen ties of friendship and cooperation.
Luanda and Havana turned 38 years of diplomatic relations on Nov. 15, carved out by a solidarity history and mutual political will of their governments to fight for their strengthening and diversification.