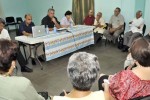 Miguel Diaz-Canel, member of the Political Bureau of Cuba's Communist Party and first vice-president of the Councils of State and Ministers met on Monday with representatives of the Cuban Ecumenical Council.
The meeting was held at the Cuban Ecumenical Council at the building hosting the Cuban Council of Churches. According to Granma newspaper, Diaz-Canel and the religious leaders welcomed the meeting, which focused on issue of common interest, such as the defence of social values and the importance of the family role with this regards.
The Cuban first vice-president insisted in the idea of identifying prosperity not only with economic development. Material improvement does not automatically lead to the creation of values, he said.
Council of Churches president Joel Ortega said that prosperous and sustainable socialism must also be participatory. He recalled the struggle of the Council for the return to Cuba of Elian Gonzalez and now for the release of the Cuban anti-terrorist fighters held in US jails.
In a fraternal ambiance, participants put forward their concerns related to the youths, the media, the institutional order and theological education.
As to the role of the family in creating values and influencing behaviours, participants proposed to jointly share research studies on the issue, which have already been carried out by different centers, so that the out comes of those studies reach Cuban religious congregations.
Diaz-Canel addressed aspects related to the update of the Cuban economic model and he noted that the most complex stage will now come with the elimination of the double currency circulation, the salary and price reform and the changes relevant to the socialist state companies.
He stressed two issues that suggest joint work by state and religious institutions, such as permanent dialog to advance subjects of common interest and the preservation of unity, which is the paradigm of the Cuban nation.
The first vice-president also met with members of the Cuban Pastoral Platform for the reunification of the Cuban Five and their families and for the strengthening of the unity of Cuban families. The platform will address US President Barack Obama a letter demanding the release of the anti-terrorist Cubans. The dialog concluded with an ecumenical prayer.