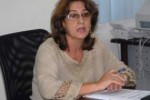 The president of the National Elections Commission of Cuba (CEN), Alina Balseiro, said today that elections to vote for deputies to Parliament and members of provincial People's Power assemblies began without any difficulty.
"It has been a day that started very good, without any problems", said Balserio when offering the first report of the electoral day.
According to Balserio, the 29,957 polling stations that were planned and already approved by the NEC opened at 07:00 local time (12:00 GMT).
The NEC president said that everything was activated as it was ordered, and electoral authorities at all levels arrived on time to their respective posts.
Balserio also said that 209 special polling stations are operating in different locations for those people who are out of their residencies due to any reason.
Those polling stations have the same characteristics and functions than the others, she added.
Balserio noted that elections continue without problems despite the persistent rain in the capital and in other areas of the country.
In this general elections, 8 million 631 thousand 836 citizens have the right to elect the 612 deputies to the Parliament and the 1,269 members of the provincial assemblies at the polling stations