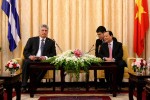 Deeply impressed by Vietnam's heroic struggle and advances in economic development, First Cuban Vice President, Miguel Diaz-Canel concluded here the first day of his busy state visit to this country.
He visited the War Remnants Museum, which boats photos and testimonial pieces of the cruel US aggression, including heavy artillery, planes and reproductions of prison cells called Tiger Cages.
The Cuban official also visited the Agricultural High Technology Area of Cu Chi that produces high yielding seeds. There he could see plantations of very tiny pumpkins, as a result of the application of sciences and research.
He toured the Tan Thuan Export-oriented Processing Area, founded in 1992 and now a successful economic pole, with hundreds of businesses operating and investments in numerous sectors.
Diaz-Canel met with member of the Politburo of Vietnam's Communist Party and Secretary of the Ho Chi Minh City Committee, Le Than Hai, and they reaffirmed the longstanding links of friendship and solidarity between their countries and the willingness to study each other's development processes.
Tomorrow, the Cuban official will be officially welcomed in a ceremony at the Presidential Palace in Hanoi, where he will hold talks with high ranking party and State leaders.
The Cuban delegation also includes Leonardo Andollo, Deputy Head of the Implementation and Development Commission; Rogelio Sierra, Deputy Foreign Minister, and Cuban Ambassador to Vietnam, Fredesman Turro.