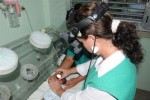 Before the World Trade Organization (WTO), Cuba denounced the damage the U.S. blockade has caused the island's health sector, including blocking its ability to purchase medicines for its population.
The United States has hindered Cuba's access to medicines and vital health resources for more than 50 years, said the Cuban representative to international organizations in Geneva, Monica Rodriguez.
Among the recent examples of this criminal policy, the representative mentioned the decision by Zurich's Cantonal Bank to suspend all transfers to Cuba, due to U.S. pressure.
As a result, she said, cooperation with the MediCuba-Suisse NGO has been negatively affected in vital areas such as the fight against cancer, pediatrics, and HIV-AIDS prevention.
Rodriguez added that recently and also under pressure from the United States, a Canadian bank withheld the funds for the purchase of flu vaccines, destined for Cuba's Vaccination Program for the Elderly.
According to a recent report, the Washington economic, commercial, and financial siege against Cuba has caused damage estimated at $1.32 trillion USD, considering the depreciation of the dollar against gold in the international market.
Despite the blockade, Cuba has created an exemplary health sector, due to the government's political determination to provide an accessible, universal, and free national healthcare system for all its citizens, said Rodriguez.