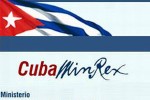 The Cuban Interests Section in Washington will restore temporarily the consular services until February 17, 2014, according to a note published by Granma newspaper this Monday.
That entity suspended these proceedings on Nov. 26 due to the impossibility to find a bank to assume its accounts because of the economic, commercial, and financial blockade maintained by the U.S. government.
According to the text released today, on Dec. 6, 2013, M&T Bank reported to that Interest Section the decision to grant an extension for the definitive closure of the accounts of the Cuban diplomatic missions in that country.
This will be run until March 1, 2014, the bank institution referred, specifying that it will receive deposits for consular services until Feb. 17.
According to the note, the Cuban Interest Section "continues making efforts to identify a new bank to take over the operation of its accounts and, to the extent that this is achieved, will be capable of permanently normalizing those consular services."
The entity regretted the inconvenience caused to Cuban and American citizens for the suspension of consular services on Nov. 26, 2013, and provide timely information on the developments of this matter.
The Cuban Interest Section in Washington said M&T Bank was informed on July 12 that it would no longer provide banking services to foreign missions.
M&T Bank then gave the Cuban Interests Section in the United States, and the Cuban Permanent Mission to the United Nations a deadline to end their relationship and find a new bank.