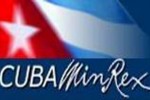 Cuba's Foreign Ministry officially presented today the Report to the Universal Periodic Review (UPR) of the Human Rights Council, scheduled to take place on May 1 in Geneva, Switzerland.
The document focuses on the recommendations accepted by Cuba in February 2009, when the first UPR cycle was presented, disclosed sources of the Ministry of Foreign Affairs, body responsible for drawing up the text.
The situation of human rights in Cuba, its judicial framework, the programs guaranteeing them and their implications are included in the report for the forthcoming review to which the 193 U.N. member countries will be subjected.
In the document, published by U.N. some days ago, the Cuban government clarifies its implementation range does not include the territory illegally occupied by the U.S. naval base in Guantanamo, where a detention center operates and is worldwide rejected for its links with tortures.
The text also denounces the economic, trade and financial blockade imposed by Washington for more than 50 years violates the human rights of the Cuban people.
The document collects Cuba's achievements in matters of education, health, culture, sports, food, protection to children, elderly and disabled people, religious freedom, the treatment to prisoners, gender equality and the empowerment of women as well as the compliance of the Millennium Development Goals.