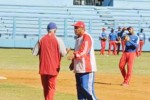 New faces and some veterans are confused these days in the Latin American Stadium in Havana, where the team Cuba is getting ready for the 3rd World Baseball Classic (WBC) in March.
Talking of baseball is now favorite topic of Cuban, few weeks of the start of the tournament that will bring together U.S., Latin American and Asian major league stars.
So far, the practices include physical training, batting, defense and specific plays. From Thursday to Saturday will be three internal warm up games.
The dynamic and sometimes controversial manager Victor Mesa, well described before as "the orange explosion" when patrolling the center of Villa Clara and Cuba, pulling the strings of final training before the upcoming tour of Asia.
Mesa, accompanied by the technical coach Jorge Fuentes, once successful director of Pinar del Rio and the national team, said that could take three to five changes to the squad released on January 16.
This week were added new members to the team: Yadier Pedroso and the burly slugger Yosvani Peraza, both experienced in the previous Classic and with great possibilities of being part of the final selection of Cuba.
Local journalists' speculations also point to the inclusion of an infielder (shortstop Yordan Manduley or versatile Raul Gonzalez), maybe an outfielder (Yasmani Thomas) and a reliever (Diosdani Castillo or Carlos Juan Viera).
The Cuban team will travel next February 14 to China Taipei and Japan where they have preparation matches. Precisely in Japanese lands, from March 2, Cuba will be in the qualifying group A of the Classic.
Cuba will clash with Brazil on March 3, China 4, and Japan 6. Sorting, go to the second stage of the tournament in Tokyo from March 8.
The Cuban shortlist of 36 players is:
Catchers: Yulexis La Rosa, Eriel Sanchez, Frank Camilo Morejon and Yosvani Peraza.
Infielders: José Dariel Abreu, Luis Felipe Rivera, José Miguel Fernández, Andy Ibañez, Yulieski Gourriel, Barbaro Arruebarruena, Yordan Manduley and Raul Gonzalez.
Outfildres: Frederich Cepeda, Alfredo Despaigne, Rusney Castillo, Alexei Bell, Guillermo Heredia, Yadiel Hernandez, Yasmani Thomas and Stayler Hernandez.
Pitchers: Freddy Asiel Alvarez, Ismel Jimenez, Raciel Iglesias, Odrisamer Despaigne, Norberto Gonzalez, Darien Nuñez, Wilber Pérez, Vladimir Garcia, Alexander Rodriguez, Danny Betancourt, Yander Guevara, Juan Carlos Viera, Diosdani Castillo, Yadier Pedroso, Leandro Martinez and Yasmani Hernandez Romero.